A bait for any application
Click here to see how to use dip bait
Cat Tracker was founded in 1988 in Dubuque, Iowa by Junnie Mihalakis from homemade formulas tested in catfish habitat throughout the United States. The research continues around the world thanks to a growing fan base of fishing enthusiasts who have discovered catfishing.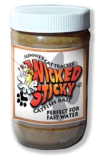 Wicked Sticky The newest in the Cat Tracker line of Cat fish dip baits.The name speaks for itself, and the bait! (WICKED STICKY.) A thick and rich recipe of cheese dip bait. This bait will stick to the worms in the heaviest of currents.


Wicked Sticky Sewer Dip Junnie's Wicked Sticky Sewer Bait is a very rich and dark dip bait and is most effective during hot summer weather.

Wicked Sticky Blood Dip Junnie's Newest - Blood Bait's key ingredient is dry livestock blood which gives this dip bait a high amino acid content. Blood Bait is best used in the spring and the fall catfish seasons.
Don't Forget to order your dip worms for this great catfishing bait. Order them here.
Back to Catfishing
Back to Junnie's Dip Worms
Back to Product Index