Zeiner's and radio 1070-AM join
for revival of fishing reports
July 20, 2003 - Years ago, anglers tuned to 1070-AM to find out the latest in fishing reports and news. For years, those reports were sponsored by Jim Zeiner, Sr. and his bait and tackle business.
"I still have people tell me they hear our ads on KFDI," said Jim Zeiner, Jr. "And we haven't been on radio for a long time."
That's about to change, the Zeiner family will once again be sponsoring fishing reports on the new Mid America Outdoor Report which will begin on August 9 on 1070-AM, KFTI. Zeiner's Bass Shop at 737 S. Washington #6 will be sponsoring the program this time.
"I hope this will be something we will be able to do for anglers in the 1070-AM listening area for a long period of time," Zeiner said. "Somehow it seems fitting that in our family's 50th anniversary year of being in business, that we help bring fishing reports back to radio 1070-AM."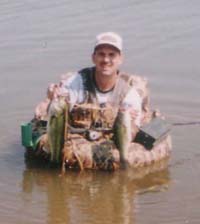 The new program will feature long-time outdoorsman Jim Vincent. He gained a love for the outdoors at age seven and has spent as much time fishing and hunting as possible since then.
In the beginning, the program will be aired twice on Saturdays, once at 7:06 am and then again at 12:06 pm.
Plans call for a blend of outdoor tips and advice along with how-to segments and fishing reports. A weekly calendar of events is also planned by Vincent. Given the time restraints of the program, plans are for the weekly calendar of events to be posted on the internet with links to it from Kansas Angler Online and Zeiner's websites. A Bass Pro Shops minute will also be included in each program.
Fishing News Archives
Back to Fishing News from
Zeiner's Bass Shop | Kansas Angler Online | Swim Tail Lures