Here is a picture of a 17 lb steelhead that I caught on the Clearwater River in Orofino, Idaho in October.. I caught her on a yellow chartreuse, size 6 jig (one that we made with your hooks, mold and paint). She was 34 inches long.
~ ~ ~ ~ ~ ~
Big Bass Challenge sponsored by Hays Bass Anglers Association is ready for the 17th edition September 9 at Wilson Lake
Cheney to host upcoming Wildlife, Parks and Tourism Commission meeting
Bassmaster Magazine names Mille Lacs best lake in nation
Kansas Bullfrog season starts July 1
Handfishing requires nerves of steel
May is Master Angler Month in Kansas
Kansas' Kickback High School Bass Teams Sweep Top Spots In Bassmaster High School Open
Lee, A 25-Year-Old Former College Angler From Alabama, Wins The Bassmaster Classic
Biologists' newsletters are anglers' multitools
Fishing forecast for 2017 online now
New 2017 Kansas fishing regulations summary available online
B.A.S.S. approves longer maximum rod length increase to 10 feet
May is great month to earn Kansas Master Angler Awards
Kansas adds new five year licenses
More fish attractors hitting Kansas lakes
How to find a Kansas fishing hole this summer
Three Kansas state parks make "Top 36" list
Catch the "Fish Management in Kansas" video online
Kansas State Park cabins offer great indoor and outdoor fun
F.I.S.H. pays landowners to allow fishing access
Enrolled private waters can benefit from fish stocking and habitat management
From a post to Reports from Kansas Anglers from Kansas Angler Online - September 5, 2016 - Tuttle - Not sure if this is the right place for my fish catch but here she is.

I was fishing at the Tuttle spillway on Friday night with Perch and Bluegill (floating) as always at 18ft and I tied into this guy around 2330. A 45 minute fight hell it took 30 before I even got to see him and another 15 because as soon as I got him topside down he would go taken line again. It was my second largest weighing in at 62lb my my largest flathead was 66lb.
VR
Click on photos for larger view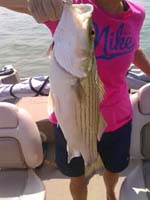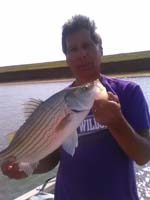 September 7, 2017 - Cheney - Another great day at Cheney, a little cooler. Got seven really nice wipers, 22 1/2 inches was largest. Most were 18 to 20 inches. My wife caught a nice 22" wiper. Got seven white bass, no walleye today. Fished for 3 1/2 hours from 9:30 until about 1:00.
Vince Serrioz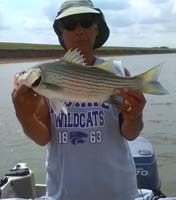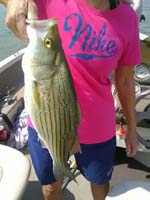 August 24, 2017 - Cheney - Had great time last week as
got into 12 nice wipers, four walleye and a seven pound channel
cat in 4 1/2 - 6 Ft of water trolling deep diving chartreuse
and orange lures. Trolling at 2.8 mph. Biggest was 27" and
smallest wast 22". Fun, fun! On drop offs, chasing shad.
Vince Serrioz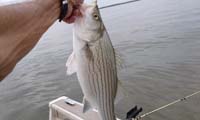 July 31, 2017 - Cheney - Went down Sunday afternoon. Got there at two. Fished for 2 hours. This spot has been hot for almost a month. This was one of eight.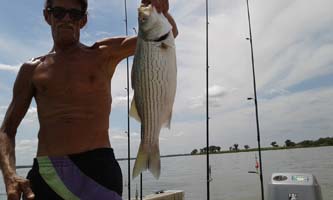 July 19, 2017 - Cheney - This is just a few of the fish that were caught at Cheney in the last few weeks.