Here is a picture of a 17 lb steelhead that I caught on the Clearwater River in Orofino, Idaho in October.. I caught her on a yellow chartreuse, size 6 jig (one that we made with your hooks, mold and paint). She was 34 inches long.
~ ~ ~ ~ ~ ~
Angler Instructor Course set for August 19 in Dodge City
HBAA's 2015 Big Bass Challenge drawing nearer
Flathead handfishing season open to adventure-seekers
KDWPT announces furlough contingency plans
Anglers should not notice much change
Helping Heroes Heal Bass Fishing Tournament
to be held at Council Grove City Lake
No fishing licenses required June 6 and 7, 2015
Tuttle Creek Lake Association to hold Kids Fishing Clinic for 21st year
Kids Fishing Clinic at Lovewell State Park June 7
Anglers have chance to participate
in Milford walleye study
Vote for Kansas in national fishing and boating sweepstakes
Grand Lake will be site of 2016 Bassmaster Classic in March
KDWPT looking for volunteer angling education instructors
Three must-have tools for Kansas anglers this season
Kansas lakes to be home to new fish attractors
Steve Harper Memorial Scholarsip Available
Kansas Youth Catch, Photo and Release Contest announced
How to find a Kansas fishing hole this summer
Three Kansas state parks make "Top 36" list
Catch the "Fish Management in Kansas" video online
Kansas State Park cabins offer great indoor and outdoor fun
F.I.S.H. pays landowners to allow fishing access
Enrolled private waters can benefit from fish stocking and habitat management
Kansas state record Rainbow Trout
tips scales at 15.72 pounds
Angler Josh McCullough caught the behemoth trout from Kill Creek Park Lake in Johnson County
April 10, 2014 - PRATT – In Kansas trout waters, it's not uncommon to drop a lure and get a bite after a few minutes, but to drop a lure, get a bite, and reel in a 15.72-pound rainbow trout is almost unheard of. Read Story
Click on photos for larger view
June 13, 2015 -McPherson County State Lake - My son and I spent about 3 and half hours fishing from shore on 6/13 in the afternoon. We had a blast. Most notable was my son sweeping the lake. ( caught all species ) Crappie, redear, saugeye, catfish and largemouth bass all on Canadian night crawler. Me, I caught about 10-13 ( I lost count, to tell the truth.) Channels. My mistake was not having a ruler with me. We did catch one that we knew exceeded the length limit a couple of others were iffey so we tossed those back. The cat was hammering chicken liver and the stink bait that mike cook uses.

June 5, 2015 - Wellington - Caught at Wellington on perch. 6/4/15 35 pounds.
June 5, 2015 - Near Madison - Fished on watershed lakes near Madison, Kansas from April 24 - 27. Weather windy &'water dirty & high. Fishing not good, but managed to catch: 1 - 7lb.; 2 - 5 lb; and about 20 smaller ones. Not a good year. I come from San Diego.

May 13, 2015 - Cheney - May 13, 2015 Weds. Walleye fishing has been excellent with many up to 26" and a lot of them. Best year class on big fish for me at this lake. Wipers hard to find. Here is a picture of a small walleye a good sign of small walleye in the lake for up coming years. White bass continue to look good two year straight now.
Mark


May 9, 2015 - Fortuna, Missouri - Rhippyn age 9 caught these last month in Fortuna, Missouri. His goal is to become a professional fisherman.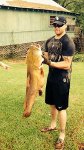 My 65-pound Louisiana catfish. I caught him on a small sun purch, gave a great fight! Using 80lbs test line #8 hook doing some tight lining. Just have to be patient and understanding catfish habitats, spawning times, pre spawning, knowing where there's a good source of food for big cats.