Here is a picture of a 17 lb steelhead that I caught on the Clearwater River in Orofino, Idaho in October.. I caught her on a yellow chartreuse, size 6 jig (one that we made with your hooks, mold and paint). She was 34 inches long.
~ ~ ~ ~ ~ ~
Kansas adds new five year licenses
More fish attractors hitting Kansas lakes
Anglers have chance to participate
in Milford walleye study
Grand Lake will be site of 2016 Bassmaster Classic in March
KDWPT looking for volunteer angling education instructors
Three must-have tools for Kansas anglers this season
Kansas lakes to be home to new fish attractors
How to find a Kansas fishing hole this summer
Three Kansas state parks make "Top 36" list
Catch the "Fish Management in Kansas" video online
Kansas State Park cabins offer great indoor and outdoor fun
F.I.S.H. pays landowners to allow fishing access
Enrolled private waters can benefit from fish stocking and habitat management
Kansas state record Rainbow Trout
tips scales at 15.72 pounds
Angler Josh McCullough caught the behemoth trout from Kill Creek Park Lake in Johnson County
April 10, 2014 - PRATT – In Kansas trout waters, it's not uncommon to drop a lure and get a bite after a few minutes, but to drop a lure, get a bite, and reel in a 15.72-pound rainbow trout is almost unheard of. Read Story
Click on photos for larger view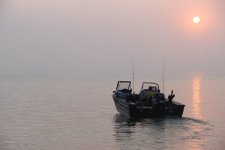 September 10, 2015 - Marion - I enjoyed a beautiful sunrise with fog in the background. Fishing has been excellent at this lake. Lots of top water action. Top water action is one of the most exciting types of fishing to experience for me. Mark.
August 3, 2015 -Cheney- Cheney August 1st, 2015 Saturday




Lots of boats on the lake and those fishing seemed to be moving around
a lot. The lake is loaded with shad (2-3") for the fish to eat and the
fish I caught were very healthy and fat.

Really warm day but consistent wind out of the south. Trolled most of
the north side (points/flats) using crawler harnesses and crank baits.
No luck jigging worms or using fresh shad on bottom.




Catches:
Half dozen white perch
2 decent wipers
3 drum (one really nice one)
1 walleye 25.5" 5.75 lbs
1 Dr. Pepper can

Ty
July 27, 2015 -Marion - July 27, 2015 Monday morning. Wanted a change of pace from Cheney for a change. Storms to the N.W. of lake causing a North wind. Not good. This is the third Monday in a roll i've been met with a north wind in the mornings. Nothing till the winds shifted to the South about 1.5 hours after i showed up at 6:30am. Found two locations with lots of shad with Big White's feeding and a ton of small 13" Wipers. Around 40 caught total. Cleaned 30. Some caught trolling and some jigging. Wish Marion lake had a fish cleaning station. Cleaned my catch at the lake with my portable table i brought with me. Before i left the waters i was on top a huge school of shad and fish. Could have stayed and continued to catch but was getting hot. A boat close by eyeing me with two young anglers on board with there dad's. I motioned them over and chatted with them and positioned them on top of my school and i had enough and called it quits. Nice seeing those boys with there Dad's.
Mark.