Click on photos for larger view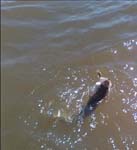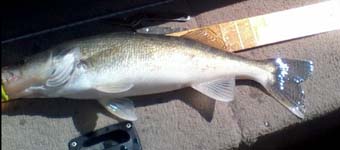 June 21, 2017 - Cheney - Jim, I go once or twice each week and will send you updates, went out yesterday from 8am to 12pm . Caught 9 walleye, all under 21, most 18". Also caught several whites and wipers, nothing large. Trolling in 5 to 3 ft of water with the wind on points and underwater humps in shallow water. Trolling with walleye lures that go 8 to 9 ft deep at 2.8 mph. Really bouncing bottom. So far in three around 32 walleye no keepers, the odds are now with us for a keeper!
Vince Serrioz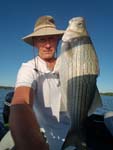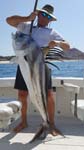 June 20, 2017 - Cheney - June 20, 2017.Tuesday. 15 caught today. Early morning bite. Off the lake by 10 am. Several small Walleye. Wiper we big. Thought I'd add picture of my Cabo, Mex. Sea of Cortez trip. 54" Rostertail fish. Took 45 min. to land. Replc mount ordered. Mark.
June 15, 2017 - Cheney - Caught 11 walleye today in 3 1/2 ft of water trolling at Cheney. Trolling at 2.9 mph with walleye lures. No keepers, most were 18 to 20 ". Also lots of whites and wipers in the same area. Last week caught 9 walleye, no keepers but lots of fun. Drop offs from 3 ft produced lots of fish

May 1, 2017 -Wolf Creek - 4/28/17 Wolf Creek - We started the morning in the hot water outlet and caught 25 white bass and a wiper on roadrunners with white curly tails. Then we moved to the rocks in 7' of water and caught 24 smallmouth, 3 crappie and 2 channel cats all on tube jigs. Color didn't seem to matter. Largest smallmouth was 20", the crappie were 15".
Shawn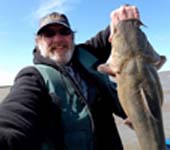 April 24, 2017 - Cheney - Fight the wind, Fight the fish.
Saturday the 22nd I went fishing with my son out at Cheney. We were trying for some post spawn walleye. No luck – just a 10" white bass who went back in to grow up a little bigger. I decided to go out on Monday before the winds got too bad.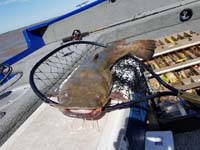 Nope they were already blowing at 20mph at 6am. Still no luck on the walleye, but I decided to take one last troll west to east along the dam before heading home, when my pole doubled over like it was snagged on something. I tossed the boat in reverse and pulled in my other line so I could concentrate on getting my lure free from the snag, wait, it has a head shake! Whoop Whoop. I got to use my fish scale for the 1st time in two seasons. This baby was just over 8lbs. And fought like a mule. Weighed him & took my pics and let him back in to grow bigger.