BassMaster
Wisconsin, Illinois Boys Wins 2003 BASSMASTER CastingKids Competition
by BASS Communications/ BASS
2003 CastingKids Winners - Michael Howard in 11-14 year old group
and Jonny Schultz in the 7-10 years old competition.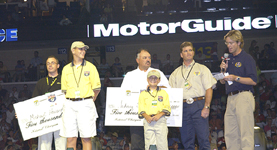 Photo by ESPN Outdoorsar (click on photo to enlarge)
(Aug. 02, 2003 - NEW ORLEANS, LA)... While the world's top bass anglers were fishing for the sport's world championship on the sprawling Louisiana Delta Saturday, 10 children were indoors pitching, flipping and casting for titles of their own at the Bassmaster CastingKids National Finals presented by Chevy Trucks and CITGO. The finals were held in conjunction with the CITGO Bassmaster Classic presented by Busch Beer.
When the elimination-style event concluded, Jonny Schultz, 8, of West Bend, Wis., and Michael Howard, 14, of Danville, Ill. hoisted their championship trophies before the crowd gathered for the second day weigh-in show of the Classic.
Howard began practicing for the championship at 8 a.m., three hours before his curtain call. Prior to arriving in New Orleans he spent an hour each day flipping, pitching and casting at the practice target. The contestants in this competition get two tries to cast to the target from 30 feet, pitch from 20 feet and flip from 10 feet.
"It was worth it," he said. "This is a really cool program and I'd tell any kid to give it a try. You get to travel, meet new friends and hang out with the pros."
Schultz, who scored 120 of 150 possible points, won the 7-10 age division title while Howard went home with the 11-14 age group title after scoring 130 points. Each youth won a $5,000 scholarship along with their titles.
Schultz and Howard were among thousands of kids who competed in approximately 1,500 CastingKids events held in the past year. The 10 finalists competed in the championship after advancing through local, state and semifinal events.
The top 5 children battled it out Saturday morning at the Classic Outdoors Show, and the top two competitors in each age group tested their nerves and aim in front of packed crowds as a preliminary to the Classic competitors' weigh-in Saturday afternoon.
Schultz, a third-grader at University School in Milwaukee, is in his second year of the program.
"It's pretty cool to get this far but to win is even better," said Schultz, who follows the pros and aspires to someday become a BASS pro.
"It's been a lifetime dream for me to win this," added Howard, a freshman at Danville High School who has won five state championships since he began competing in CastingKids in 1998.
BASS created CastingKids in 1991 as a national youth outreach program to promote the sport.
BASS is the world's largest fishing organization, sanctioning more than 20,000 tournaments worldwide through its Federation. The CITGO Bassmaster Tournament Trail is the oldest and most prestigious pro bass-fishing tournament circuit and continues to set the standard for credibility, professionalism and sportsmanship as it has since 1968.
Sponsors of the CITGO Bassmaster Classic presented by Busch Beer include CITGO Petroleum Corp., Busch Beer, Chevrolet Trucks, Yamaha Outboards, Mercury Marine, Skeeter Boats, Triton Boats, Lowrance Electronics, Flowmaster Exhaust Systems, Kumho Tires, Progressive Insurance, Abu Garcia, Berkley, Diamond Cut Jeans, MotorGuide Trolling Motors, and BankOne.
Associate Sponsors include Bryant Heating and Air Conditioning and G3 Boats.
Local sponsors include the State of Louisiana Department of Culture, Recreation and Tourism, the Greater New Orleans Sports Foundation, and Jefferson Parish.
For more information, contact BASS Communications at (504) 304-2563.
BASSMASTER CASTINGKIDS FINAL STANDINGS
7-10 Age Group
PL Name State
1. Jonny Schultz Wisconsin
2. Clay Miller Missouri
3. Dylan Peppers Georgia
4. Brady Nolan West Virginia
5. Kyle Gertner Colorado
11-14 Age Group
PL Name State
1. Michael Howard Illinois
2. Dylan Schaefer Georgia
3. Billy Goodwin California
4. Elysa Lackey Vermont
5. Robert Snyder Louisiana

Fishing News Archives
Back to Fishing News from
Zeiner's Bass Shop | Kansas Angler Online | Swim Tail Lures