Button Machine Rentals
Save money by making your own
without the cost of a new machine
We rent all over the country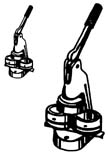 Machine Rentals ~ Do you need to make buttons only once in a while, but you want to make a large number of them a quick as possible? There is no need to make a large investment in a high production machine to do that.
We have three sizes of machines available for rental from 2 1/4" to 2 1/2" to 3" which is an ideal photo button size.
The machines will produce 300-400 buttons per hour with an experienced operator - five to eight times faster than hand-held machines or orther lower production type machines with several dies and hand operatons. the high production machines require the operator to simply drop in the parts, slide the dies and pull down a handle twice and the job is done.
A cutter is included in the rental to make cutting of your designs or photographs easy.
Designing a button is easy, especially if you have access to a computer. It's even possible to print your own with the printer from your computer. Or you can design your buttons and print one sheet and then take them to a copy shop or printer to have them printed. No special paper is required. Just regular paper.
See our design page for more information on designing your own buttons. You can also check our printing page for some hints on printing your buttons.
You can rent a machine to make as few as 25 buttons or as many as you like. The price is reasonable.
Machines
Basic | Metal Economy | Flip Dies | Sliding Dies
Order Now | Home