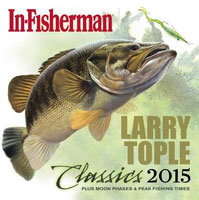 2015 IN-FISHERMAN CALENDAR
Synopsis:
13 month calendar features incredible In-Fisherman underwater photos of the most popular game fish in the country. Thousands of sportsmen rely on these calendars every year to plan their trips to the outdoors. Each features exclusive editorial from North America's leading outdoor brands + peak wildlife activity periods. 11x12 inches.

More Information:
Featuring the artwork of Larry Tople ­ In-Fisherman magazine's cover artist! In-Fisherman is proud to present what we feel is our most beautiful calendar ever. For each month of this big 13-month calendar, In-Fisherman cover artist Larry Tople has supplied his best work ever, including some never seen before, to make this truly a collector's calendar.
In addition, each month contains useful information to help you catch fish throughout the year. You'll find Moon Phases, Daily Peak Fish Activity Periods, and Exclusive In-Fisherman Tips to help you catch more and bigger fish.
Available in our store or order now $12.95
Back to Complete Calendar Listing
Back to Shopping Cart Index