We've received a new order
August 1, 2006 - In addition to the colors listed below, we also have the Brown/Black.
Chatterbaits have arrived
Get in quick for best choice of colors
June 23, 2006 - We're received our order of Chatterbaits and they're ready for sale.
This order is all 3/8 oz and includes all the colors shown below.
Shad Silver Blade
White Silver Blade
White/Chartreuse Silver Blade
Chartruese Gold Blade
Black/Blue Silver Blade
Green Pumpkin/Black Silver Blade
Remember, this is the original Chatterbait, not an imitation from another manufacturer. For more information on the Chatterbait, click here.
Available in our store for $6.95 or order online
One of the hottest new baits of 2006
Zeiner's has all the colors on order,
but the supplies are tight
One of the hottest lures of the year is the Chatterbait. The manufacturer has been behind on shipping all year as the word has spread and a buying frenzy builds. We've heard reports of the baits selling for $30 and more on eBay.
Several companies and many individuals have made copies of the lure and have capitalized on the excitement.
We have all seven colors of the Chatterbait on order, but don't know how soon we will receive them. We will post it here as soon as we receive them. If you haven't seen one yet, here is a photo and a brief story about the Rite Bite Shakey Hooker courtesy of the Arkansas Game and Fish Commission.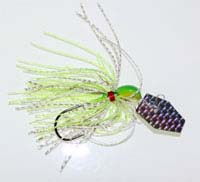 April 21, 2006
New Lure Lesson: One of the most talked about lures for bass anglers this season has been the chatterbait or Rite Bite Shakey Hooker. These lures are a combination of a jig and a crankbait that seems to drive active fish wild. For many years, anglers have cast swimming jigs and cranked them back to the boat while shaking their rod to impart action to the lure. The crankbait-style blade to the Shakey Hooker puts out vibration and action better than any angler can produce on his or her own. All you have to do is cast out the lure, let it fall a few feet and begin a steady retrieve over grass and brush. Much like a spinnerbait, the hits you get will be sudden and violent. Many fish hook themselves on the hit. (Courtesy of Arkansas Game & Fish Commission)