These are no longer produced

We are out of these right now but will have a few colors listed soon.
One of the hottest new baits of 2001
Zeiner's has all 16 colors and three sizes
of Mad Man Craws available
Crawfish Facts
Crawfish provide bass with a food source higher in protein and other nutrients than forage fish. The larger a bass grows. the more likely it is to devour crawfish. Samplings of adult bass stomack contents at various times of the year reveal that in many waters, crawfish constitute 2/3rds of the bass diet.

The Mad Man Design
The Mad Man craw incorporates three-deminsional realism, a solid tail section, which provides a firm rigging foundation, and a soft tubular body that allows for easy compression for the maximum hook gap on the strike.
The tubular chamber also provides the angler with a variety of rigging options and the ability to use a combination of scents, rattles and floats.
The pincher, feelers, and legs provide life-like action in the water to imitate a crawfish on the ove, in a defensive position, or getting away for a quick escape.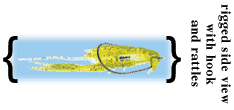 How to Rig the Mad Man Craw
The Mad Man crawfish tube can be flipped, pitched, riged with a jig, split shot, or Carolina rigged. You can Texas rig with a wide-gap, offset shoulder hook. You can also use a tube weight, strip weight on the exposed hook shank, bullet weights or weighted hooks to adjust the presentation and rate of descent.
Advice on fishing the Mad Man Craw from Jeff Kriet