After having countless customers ask us to get Hag's Tornado baits, we finally listened and took action. We talked to our customers and did some more research. Then we decided that we needed to stock them. We've added every color in every bait Tommy Hagler, the lure's creator, produces.
With 35 years of tournament fishing under is belt, Hagler started the business to fulfill a life long dream and produce bait designs that he knew would catch fish. The word is getting out about how these baits really do produce. He likes to say that he's not a bait designer that fishes. Instead, he describes himself as an angler that designs baits. He knows what fishermen want a bait to do. After hearing what out customers had to say, we know they and others will find fish catching designs and quality in all of his products.
One of his innovations was to combine the first ever rattle chamber in the core of a plastic bait with a special blend of plastic to produce the fish catching baits. All of his baits float. When stopped, the baits float to an upward position instead of just laying flat on the bottom of the lake. When rigged properly, the baits will float off of the bottom or over grass beds, making the baits highly visible to the fish.
See the Hag's Tornado and Hag's Undertaker in action in a water test tank. Click here to view them.
Hag's Tornado


This unique soft-bait design incorporates the characteristics of a stickbait, floating worm and ringworm into one package. The result is an action unlike any other bait.. The worm is available in four sizes – F4, F5, F6.5 and F8. We had to smile at his "F" designation for his baits, combining the "F" like you see in tornado ratings along with the length of the bait. The Tornado is available in 20 colors and comes in an eight-pack of the 4 or 5 inch model or a six-pack of the 6 1/2 or 8 inch models retails for $3.95.
On a Carolina rig, the lure is reported to be livelier than most, and the bass seem to hate it with a passion. The lure has produced big fish and big limits on Kentucky Lake, but a lot of folks are reluctant to talk about it much – yet. In the 2010 FLW Buyer's Guide, they compared it to other similar lures, and said "this one stands alone. A lot of thought went into features like the rattle pocket for adding rattles easily to the lure. For $4, you should give it a try and see for yourself."
Click here to see the 20 colors and to order the Hag's Tornado. You will also be able to watch videos showing the action of the lure - Click here.
Hag's Undertaker and Undertaker Junior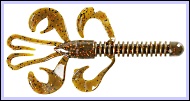 Anglers that rely on creature baits will appreciate the Hag's Undertaker. When the Undertaker was designed, the folks at Hag's incorported the features of craw baits and creature baits. We think it fills the bill for both types of anglers. The Undertaker is available in 8 colors and comes five to a bag and retails for $3.95.
Click here to see all eight colors and learn more about the Undertaker and to order. You will also be able to watch videos showing the action of the Undertaker - Click here.