Secret 7 Catfish Dip Bait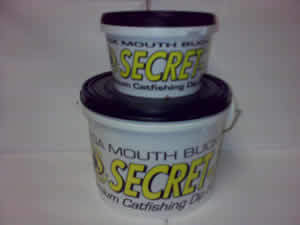 Click here to see how to use dip bait
Team Catfish has come up with a secret formula for their catfish dip bait. The secret dip bait is being called Secret-7 Premium Catfishing Dip Bait. Team Catfish has Cat Tracker Bait Company (Junnie's) manufacture the bait for them using Team Catfish's secret recipe.

The Team Catfish, Secret 7, catfish dip bait is available in two different sizes. The first comes in a small tub with approx 1 pound of bait. The second one comes in a large tub with approx 4 pounds of bait in it.
The Team Catfish DEAD RED Blood Spray. When your cut bait looses all of its blood and scent, just reel it in and give it a few squirts of our all purpose catfish attractant. This liquid looks like and feels just like blood plus it is loaded with natural attractants and fish oils.
Don't Forget to order your dip worms for this great catfishing bait. Order them here.
Back to Catfishing
Back to Team Catfish Secret Seven
Dip Baits | Fiber Bait | Blood Spray | Dip Tubes | Miny Furry Thang
Hooks | Sinkers | Towel | Glow Wrapz | Tug-O-War Braided Line
Floating Fish Grip
Back to Product Index